The National Party Congress plays the most important role in determining our country's future, at least the future of the coming five years. So will the 10th National Party Congress. In light of globalization and the national developments, the next five years are very important.
Firstly, the country is integrating into the globalized world more profoundly and comprehensively. For integration, the formulation of national policies has to be based on a new set of norms and a capability for global thinking. There is no economic development policy which can lead to success if it is formulated separately from the global market and the pressure of global competition.
We can protect the automobile industry, which is being controlled by well-known foreign companies. However, the policy is of significance only when it is framed to compel foreign companies to transfer their technology, assist and facilitate the foundation of competitive support industries in the country.
Otherwise, local consumers' sacrifice will not be compensated. When we have to open the automobile market, this industry's position is very likely still at zero, and the policy on investment in Vinashin as well. This policy is effective only when the country's competitive advantage over other countries in the ship building field is defined clearly and aimed at ensuring our competitiveness. It is not very likely that low labor and low environmental standards are advantages to be promoted.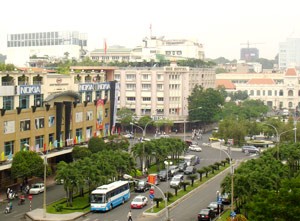 With right policies, Viet Nam will take off in next 10-20 years. (Photo: T.C.)
 
Industrialization and modernization cannot be carried out subjectively in a globalized world and a profoundly integrated economy. The economic policies must be formed on the basis of real competitive advantages of the country.
Those advantages might be 1. Geopolitics and geo-economics (deepwater port system connecting with the Trans-Asia highway, a route connecting with South-western China), 2. Natural conditions and natural heritages (Ha Long bay, Phu Quoc island, favorable conditions for growing rice in the Mekong Delta, and favorable conditions for planting flowers in Da Lat), 3. Vietnamese people (with mathematical thinking and aesthetic tastes), 4. Cultural characters (Vietnamese culinary culture, Vietnamese painting), etc.
If integration process takes place in economic life, there is no reason for it not to take place in cultural and spiritual lives. The National Party Congress must realize this issue to form appropriate policies, aiming to accept the above mentioned realities.
Secondly, the past reform policies have brought about great achievements for the country, but they are being used up almost completely. In fact, these policies (such as those on minimizing red-tape for private enterprises when they operate in the free market) were aimed at liberalization to set free the production capacity and promote wealth building. These two "motivating drives" have run their courses.
We have to start the second phase of the reform, aiming at forming a constitutional system which can guarantee a harmonious and stable development of the country. The constitutional system is to operate the market economy, lawful state and civil society – which are three stable supports for the development. Without any of them, it will be hard for us to maintain a stable house for the future for our children and grandchildren.
Finally, the 10th National Party Congress is a turning point. Its right policies will create a premise for the country to take off in next 10 or 20 years, otherwise, they may cause difficulties which will take us 10 or 20 years to solve. Our Party is a ruling party. The Party has the right to shape the nation's future, so it has to be responsible for that future. Therefore, the 10th National Party Congress has a great historic mission.