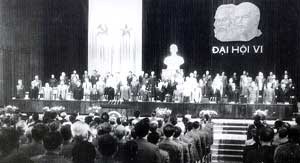 The 6th National Party Congress
Ha Noi celebrates the 10th National Party Congress
Public performances of music extolling the nation, the Communist Party and the people in new era were hosted at outdoor stages around Hoan Kiem Lake, Ha Noi on April 19.
Ha Noi Library, boasting books themed National Party Congress for many periods, opens its door in Thang Long Royal Citadel to celebrate the 10th National Party Congress.The reading room opens free of charge for readers until April 25, 2006.
Over 300 artifacts, photographs and documents depicting general achievements of Viet Nam's reform process in economy, politics, culture, and society are on display in the Vietnamese Culture and Art Exhibition Center.
The image of Viet Nam through many topics like "The past periods", "The 6th National Party Congress"- the Congress that started the reform process of Viet Nam, and the soaring successes of Viet Nam during the past 20 years, are showcased in the exhibition.
As many as 52 artworks of 41 artists acclaiming the 10th National Party Congress are being honored and presented in public. Many feature films, documentary films and reportages will be screened, reflecting Viet Nam's image after 20 year of reforms.
Provinces join the celebration
 
Many Labor Unions in Can Tho have registered and conducted 86 projects and over 200 initiatives, worth of VND76 billion, making over VND6 billion worth of profit only two months after launching a campaign to support the 10th National Party Congress.
The second Khanh Binh border trade fair has officially opened its door in Long Binh Town, An Phu District, An Giang Province to welcome the National Party Congress.

The second fair, which is larger than the first one, boasts more than 200 stalls of 16 products of well-known domestic and foreign exporters alike.
Son La Hydroelectric plant stepped up its construction since March, 2006 to mark the congress. Over 4,000 workers and hundreds of vehicles are mobilized in a move to finish major works on the construction sites.
A new drainage system and over 700 water-clocks were installed for residents in Da Nang to join the welcoming atmosphere of the congress.