Some 18 people were reported dead, four missing and 24 injured after the flood devastated the central provinces in Vietnam in two days.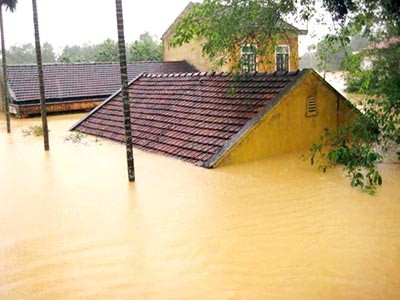 Houses  in Thua Thien-Hue submerge in water (Photo: SGGP)
Meteorologists said river water in the central province of Quang Tri  to Binh Dinh receded . Governments are trying to help to disinfect environment and provide clean water to residents.
Quang Ngai Party Committee Secretary Nguyen Hoa Binh led the mission to encourage maintenance workers who were repairing roads and landslide sites. Binh told youth forces to help people to clean houses, roads and fix houses.
Five Quang Ngai residents were dead, three missing, 24 injured, 10,000 hectares of vegetables and paddy fields were destroyed, over 4,000 cattle and poultry were  swept away, 11 dams and canals were damaged. The damage cost is estimated around VND230 billion.
Released water from hydroelectricity plants has caused landslides in communes in districts Tuy An and Dong Xuan in the central province of Phu Yen, the Steering Board of Storm Prevention and Fighting has evacuated more than 100 households from waterlogged areas to safer shelters. The province said that the death toll in the devastating floods is nine people, 1,203 houses were damaged including 52 totally destroyed houses. The loss cost is around VND223.8 billion.
Meantime, some parts of the central province of Binh Dinh were inundated by 0.5m to 1m, traffic on the roads had slowed to a crawl. Floods sweeping through the region have left four people dead, one missing after two days of downpour, the Steering Board of Storm Prevention and Fighting said. It costs VND142 billion.
The deputy Prime Minister Hoang Trung Hai November 18 led a mission to the central province of Thua Thien-Hue to check flood fighting work. Hai reminded hydroelectricity of  releasing water during flood season. He lauded the government to timely help residents in the flood, ordering to strengthen public awareness of  natural disaster and continue to aid people to clean the environment, fight against epidemics and prepare for the coming winter-fall crop.
Hai agreed to provide 1,000 tons of rice and VND30 billion to Thua Thien-Hue to repair roads and irrigational works.