Provinces of Yen Bai and Hoa Binh are two localities having the most numerous deaths and missing people due to heavy rain, flash flood and landslides.
Amid to the current complicated weather condition, Deputy Prime Minister Truong Hoa Binh led a working delegation to Yen Bai province to direct adaption measures dealing with and overcoming consequences after the recent torrential rainy day.
The National Steering Committee on Natural Disasters Prevention said that the floodwater swept away around 30,827 houses.
Around 1,948 households were moved urgently to safe places.
At present, many dyke systems in the northern provinces were also destroyed by floodwater.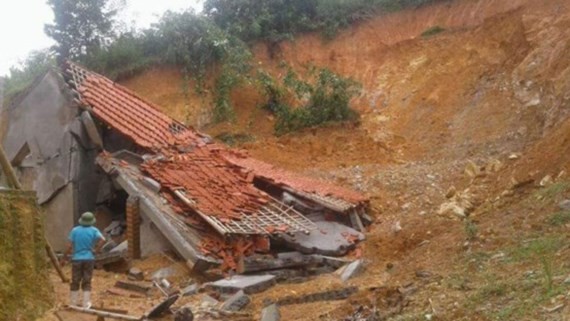 Thousands of households are ln the dangerous warning.
Up to now, more than 52,000 rice and vegetable crops, and 16,303 hectares of food and perennial trees in the provinces from Nghe An, Thanh Hoa to Ha Nam, Ha Noi, Hung Yen, Ninh Binh, Hoa Binh have been flooded under water.
Statistics showed that around 20,000 cattle and poultry have been died in hit-areas.
Communes of Phu Yen District, Van Ho District (Son La Province), Da Bac District, Lac Thuy District (Hoa Binh Province) have been isolated due to interrupted traffic.
The Water Resource Directorate under Ministry of Agriculture and Rural Development reported that the flooding hit on the area of 162,636 hectares in the Red River Delta.
By 7 am yesterday, typhoon Khanun entered the East Sea; therefore, the Minister of Agriculture and Rural Development, Head of The National Steering Committee on Natural Disasters Prevention asked localities to actively cope with the tropical typhoon, called on vessels out of the dangerous areas in next 24 hours.
Tags: