The National Hydrology Meteorology Forecast Center yesterday issued the lastest weather news about 'Mirinea' typhoon after it was weakened into the tropical low pressure hitting the west northern provinces of Vietnam.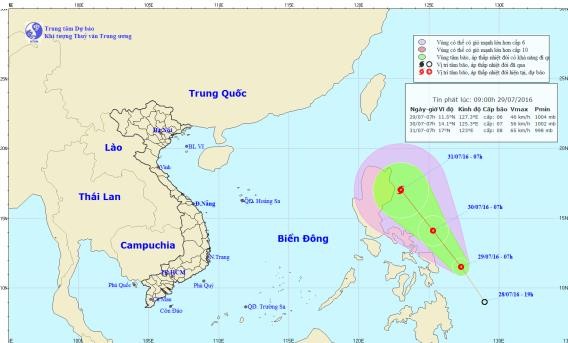 New tropical depression is approaching East Sea. (Source: The National Hydrology Meteorology Forecast Center)
The center announced that another tropical low pressure has just appeared on East Sea, and is predicted to operate stronger than that in the following days.
In next two or three days, the southwest monsoon will continue causing medium- heavy rains and strong wind in the southern territorial water of East Sea from Binh Thuan province to Ca Mau province and Spratly Islands.
Moreover, prolonged medium- heavy rains will cover the Central Highlands, the Northern provinces and Thanh Hoa with the highest temperature of 100- 300 mm.