Another tropical storm named 'Rumbia' entered the eastern part of the East Sea this morning, announced the National Hydro Meteorological Forecasting Center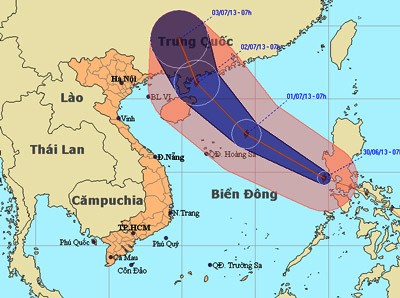 Direction of tropical storm 'Rumbia' on July 30 (Photo: National Weather Bureau)
Rumbia is the third storm frpm the East Sea this year.
At 7am, the storm was centered 850 kilometers east southeast of Hoang Sa (Paracel) Islands and it has maximum sustained winds of 62 kph near the center and gustiness of up to 78 kph.
In the next 24 hours, the storm will move west northwestward with pace from to 24 kph, then change course to the northwest direction and might intensify.
By 7am on July 1, Rumbia will be located about 230 kilometers east northeast of the Hoang Sa Islands.
The storm's fury will reach level 9, moving 75-88 kph and generate gusts of level 10-11.
At present, the northern and central regions are experiencing a widespread heat wave with temperatures hovering around 35-37 degrees Celsius. The mercury will soar to 38 degrees in places on June 30.
This heat wave is forecast to linger in the next two to three days.
Bebinca storm that affected the country last week brought heavy rains in the central region and help the region water thirsty rice fields.
This was the first time farmers in the region waited for storms that are expected to supply water to summer rice crop.