The Central Steering Committee for Flood and Storm Control has asked local administrations and central agencies to warn fishing vessels about Typhoon Nuri that has formed in the northeastern part of the East Sea.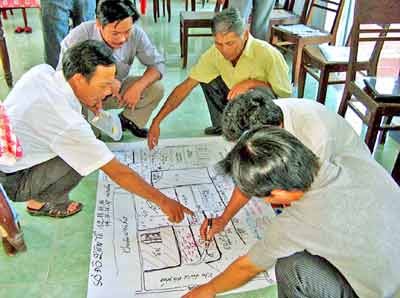 Da Nang's administrators point at dangerous zone to have safety measures when the typhoon strikes the province
The Central Hydro-Meteorological Center said Nuri is likely to intensify in the days ahead and move west-northwest at 15 km/h.
It has predicted that by 4 PM today the typhoon would lie around 1,600 kilometers due east of Hai Phong.
It is packing winds of 139-166 kilometers per hour (13-14 levels) and causing rough seas.
The northeastern part of the Hoang Sa (Paracel) archipelago has been experiencing torrential rains and winds.
The Ministry of Health sent an emergency dispatch yesterday to the departments of health in coastal provinces from Quang Ninh to Binh Dinh, asking them to stock drugs and medical equipment.
The Quang Ngai Province Search and Rescue Committee said the same day that 101 vessels with 1,865 men aboard are fishing in the northwestern part of the East Sea and the western part of the Paracel archipelago despite its order to seek refuge.
Ha Tinh Province's Steering Committee for Flood and Storm Control has enlarged its communications network and equipped 30 boats with radio telephones.