Spratly Island and territorial waters from Binh Thuan to Ca Mau experienced strong winds at level 5-6 accompanied with heavy rain, thunderstorm and cyclone due to the influence of low pressure trough towards Northwest and Southeast as well as strong operation of Southwest monsoon, reported by the National Hydro Meteorological Forecasting Center on June 29.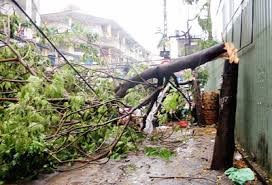 (Photo:SGGP)
Territorial waters from Ca Mau to Kien Giang province were shouldered by showery weather, thunderstorm and strong wind.
Due to effect of low pressure, the weather on the mainland has become cooler. In HCM City, the highest daily temperature is at 25 – 29 degree Celsius.
After heat waves, drought season experienced during previous months, heavy rains began to hit southern and central highlands provinces on large scale.
The rainfall supplied a part of waters for thousands of hectares of summer-autumn rice fields, rivers, streams, lakes and water pumps with water shortages in the pervious days.
On the same day, Doan Tien Dat of the People's Committee of Thach Ha District said that heavy rain accompanied with cyclone swept through some villages of La Xa, Son Trinh, Phai Dong and Tan Hoa, caused heavy damages for residents.
Initial statistics showed that cyclone blew up 41 house roofs and unrooted hundreds of trees in Thach Lam and Thach Tan Commune.