Soon after making landfall in central Philippines, 'Banyan' storm entered the East Sea and weakened into a tropical low pressure system, but expected to intensify into a storm once again.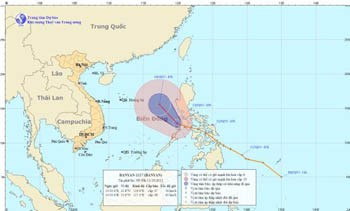 Position and direction of 'Banyan' storm on the East Sea on October 13 (Photo: national weather bureau)
According to the National Hydro Meteorological Forecasting Center, at 7am on Thursday, the low pressure system was centered at 12.8 degrees north latitude and 119.9 degrees east longitude.
Strongest winds near the system measured at level 7, moving at 50-61 kilometers an hour.
Within the next 24 hours, it is expected to move northwestwards at 15-20 kilometers an hour and might intensify into a storm once again.
By 7am on Friday, the storm will lie on the eastern part of the East Sea, about 580 kilometers east-southeast of Hoang Sa (Paracel) Islands. Wind gales of level 8 are expected to move at 62-74 kilometers an hour.
The northern and mid areas of the East Sea are experiencing strong winds and very rough seas, as a result of the tropical low pressure system.
A cold front is now moving southwards and expected to affect northern Vietnam by Friday, causing more showers and scattered thunderstorms in parts of northern and central regions.