An extremely severe cold front is set to slam into Northern Vietnam from January 21 or the 28th day of the 12th lunar month, bringing with it chilling winds and freezing temperatures in the Northern Provinces during the main Tet New Year days.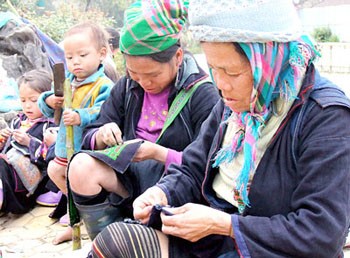 No respite from the bitter cold during Tet Lunar New Year for Sa Pa residents (Photo: SGGP)
Le Thanh Hai, director of the National Hydro Meteorological Forecasting Centre said that temperatures will plunge in the northern region until the 3rd or 4th day of the 1st lunar month of 2012.
Two to four days later, the cold front will become widespread and affect the central and southern regions. Ho Chi Minh City will remain cold during nighttime with mercury falling to 19-22 degrees Celsius.
Snow and icy conditions may occur in Sa Pa District in Lao Cai Province and on Mau Son Mountain in Lang Son Province during Tet, as temperatures are forecast to drop below zero degrees Celsius.
From Tuesday to Friday this week, the weather will be warmer in the northern regions. Temperatures will rise to 16-18 degrees Celsius during nighttime and 20-22 degrees or even 26-27 degrees in some places during daytime.
Since the beginning of January this year, extreme cold weather has repeatedly engulfed the northern and central regions and ice and snow has covered many parts of the northern mountainous region.
The repeated and intensive cold fronts in the north have also affected the southern weather, making it much cooler with mercury dropping to 20-22 degrees at night, and fog hovering over parts of the south in the last few days.