Central provinces are making emergency plans to cope with tropical storm Maysak, which continued to move into the East Sea with winds of up to 88 kilometers per hour and much stronger gusts, the National Hydrometeorology Forecast Center said.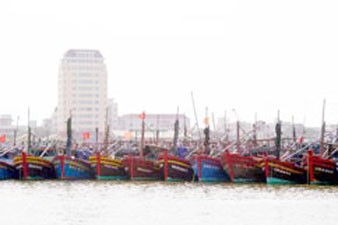 Fishing boats anchor on the Han River in Da Nang to shelter from the storm

Maysak would move south-southwest at five to 10 km per hour for the next 24 hours before weakening into a tropical depression, it forecast.

At 4 pm tomorrow its eye would be 300 km north of Song Tu Tay Island, it added.

In an urgent dispatch to coastal provinces from Thanh Hoa all the way to the southernmost Ca Mau yesterday, the Central Steering Committee for Flood and Storm Control asked them to keep fishing boats fully informed of the movement of Maysak and bring them ashore to shelter.
Central provinces like Nghe An, Quang Tri, Quang Binh, Thua Thien-Hue, Da Nang, and Quang Nam are preparing for the worst.


Quang Binh has been experiencing heavy rains since last Friday, which have caused the water levels in rivers to rise. Floods have caused landslides at some places along the banks of the Gianh River. Landslides have also occurred at the Mui Rong reservoir and repairs are under way.


Quang Tri Province has strengthened dikes with sand and bricks to protect hundreds of aquaculture farms and 200 hectares of crops.


Heavy rains in the last few days have flooded hundreds of houses along the banks of the O Lau and Bo Rivers and around the Tam Giang lagoon in Thua Thien-Hue. Authorities have banned fishing boats from putting out to sea and instructed boats at sea to return to shore. They are stockpiling 100 tons of rice and 50 tons of instant noodles to cope with any possible emergency.


Da Nang authorities are ready to evacuate around 137,000 residents living in districts like Hai Chau, Ngu Hanh Son, Thanh Khe, Hoa Vang, Lien Chieu, and Son Tra to safe places. They have earmarked VND6 billion (US$360,000) to buy food for storm victims if necessary.


Da Nang has also called all fishing boats at sea to return to land or seek shelter from the storm. The city Department of Health has formed emergency rescue teams.


Quang Nam authorities have made contingency plans to evacuate 60,000 residents living along the coast 12 hours before they receive news of the storm making landfall. More than 2,300 boats with 11,000 fishermen on board have returned from sea, they said.