Since September 3, heavy rains and floods have raged over central provinces, damaging thousands of hectares of paddy fields and cropland, causing two deaths and injuring five.

The Committee for Storm and Flood Control for the Central Region – Central Highlands said that waters levels in almost all the major rivers in the Central provinces are receding slowly after heavy rains begun to abate.

The major exception is Thach Han River, Quang Tri Province, which is rising rapidly and expected to reach warning Level One tonight.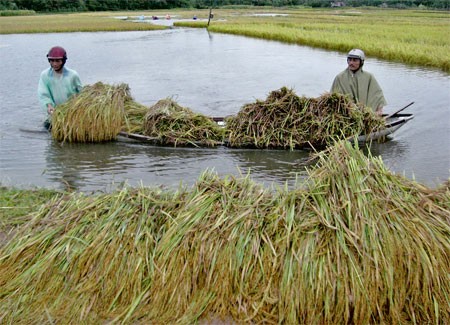 Many hectares of paddy field  submerged under flood water in Quang Ngai Province (Photo: SGGP)
Heavy rains have damaged over 10,000 hectares of summer-fall rice crops, and swept away 73 houses and 60 tons of fish and shrimp from aqua farms. The damage is estimated to reach hundreds of billions of dong.

In the city of Hue, Thua Thien Province, two people are reported to have been swept away by floods.

Among them was Phan Canh Suu, 76, resident of Phu Luong B Hamlet, Quang An Commune, Quang Dien District, whose boat capsized on September 4. The other was a child living in Huong Tra District.

On September 5, heavy rains were reported to have raised the water in the Huong, Bo and O Lau rivers to warning Level Two.

At present, the Government and local Hue residents are trying to save 1,095 hectares of paddy rice, 625 hectares of cassava, 150 hectares of sweet potatoes and over 1,000 hectares of vegetables that have been submerged under water in the districts of Phong Dien, Quang Dien, Huong Tra, Phu Vang and Huong Thuy.

In Quang Tri Province, in the evening of September 5, more than 2,000 hectares of rice and 1,000 hectares of vegetables in Hai Lang District were under water. Rice in many paddy fields has reported to have begun sprouting. .

In Quang Ngai Province, farmers had sown 5,000 hectares of rice but 1,000 hectares have now been submerged under water.

The most heavily flood-stricken districts are Son Tinh, Mo Duc and Binh Son.

Heavy rains are predicted to continue in Quang Ngai for the next few days.