The central region and the Central Highlands have been warned to take appropriate measures to cope with storms and flooding, which are forecast to be more frequent and severe this year than in previous years.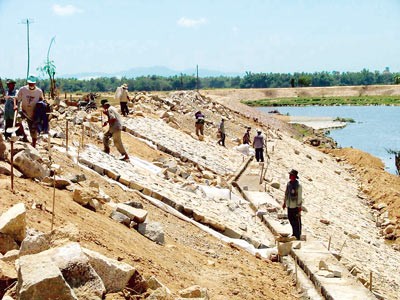 Binh Dinh Province is rushing to complete construction of the La Tinh embankment before the storm season (Photo: SGGP)
The warning was issued by officials of the Central Steering Committee for Flood and Storm Prevention at a meeting in Hanoi on Thursday. It called for better preparation by the region to cope with the coming storm season this year.
According to the National Hydro Meteorological Forecasting Centre, the number of storms and tropical depressions to directly affect Vietnam this year might be from 6-7, which is higher than average. About 3-4 of these might hit the central region alone.
Vu Kien Trung, deputy head of the Department of Dyke Management, Flood and Storm Prevention and Fighting, said that the central region in Vietnam is the worst hit each year by natural disasters.
With this in mind, local authorities should prepare in advance to cope with possible storm and flood scenarios. Quang Tri Province is one of the provinces that are well prepared to cope with severe catastrophes.
On Thursday, the national weather bureau warned boats in the mid and southern parts of the East Sea to watch out for cyclones, which may occur from existing southwesterly winds.
These southwesterly winds will linger on for the next two to three days and then abate, but continue to gain strength at the beginning of next week.
Another hot wave is set to return to the northern and central regions, once again soaring temperatures. From May 20, severe hot and dry weather will prevail across wide areas.