Typhoon No. 3 weakened into a low pressure after making landfall in the south central provinces from Da Nang to Quang Ngai with its level 6- 8 strong wind and prolonged heavy rains, reported the department of natural disaster prevention and control in the Central and Central Highlands region yesterday.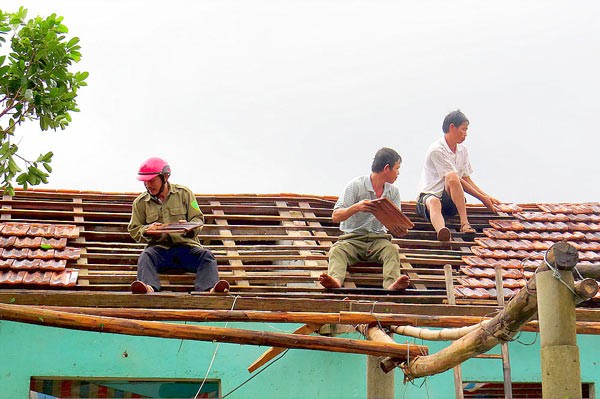 People repair a destroyed home after typhoon.(Photo:SGGP)
At present, local authorities and functional forces are trying to help people repair houses to stabilize quickly their lives and production after the typhoon.
However, sea rough and big waves snatched five fishing vessels and tourist boats. As soon as the typhoon passed directly through, functional forces fished it out from sea water.
Moreover, big wave caused landslide and flood tide in Hoi An's Cua Dai, Duy Xuyen. Dealing with bad natural condition, authorities of Hoi An, Duy Xuyen moved local people and animals to safer places.
Heavy rains also caused landslide in mountain districts of Quang Nam such as Nam Giang, Tay Giang and Phuoc Son, causing difficult traffic.
After the typhoon swept through Da Nang city, Da Nang Green Trees and Park Company mobilized staffs to remove and replant uproot trees.
A cyclone yesterday blew up 45 house roofs and destroyed hectares of vegetable crops in Tan Ninh, Van Ninh and An Ninh commune, Quang Ninh district, Quang Binh province, announced deputy chairman of the People's Committee of Quang Ninh district.
Quang Ninh district's Red Cross Society Chairwoman Pham Thi Hong Minh said that the Red Cross Society supported VND 500, 000 each family with destroyed home; and the People's Committee of Quang Ninh district also offered VND 3 million for poor family to repair their houses.
At that time, there were around 32 house roofs and hectares of vegetable and rubber cultivation damaged completely by the cyclone and strong wind in Viet Trung town, Bo Trach district.
Two days prolonged heavy rains caused a faster rise of flood level on Se Pon River and local streams, blocking many roads and flooding on the large scale, said Steering Committee for Flood and Storm Prevention and Control and Committee for Search and Rescue of Quang Tri province yesterday evening.
Local authorities also instructed local schools to allow students absence to ensure safety.
Department of Flood and Storm Prevention and Control of Quang Binh province said that highest rainfall on Nhat Le River reached 400mm, yesterday.