The flood situation in the central provinces from Quang Ngai to Ninh Thuan has continued to worsen because of the influence of consecutive heavy downpours and water release from the local irrigation reservoirs in the recent days, reported the Department of Natural Disaster Prevention in the Central and Central Highlands region.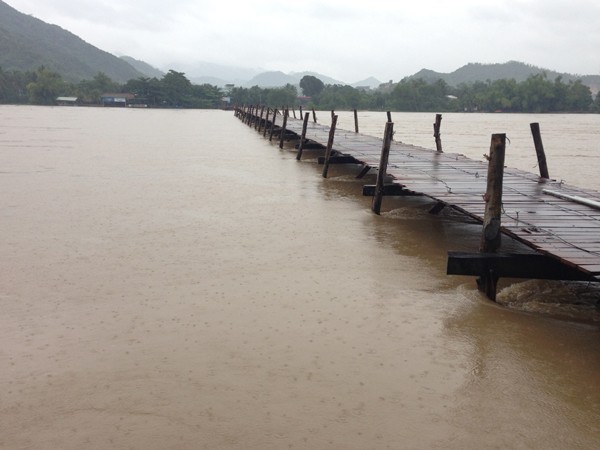 Flood level on the river systems is rising rapidly due to heavy rains and water release from the local irrigation reservoirs.
More than 1,000 houses are damaged
The floodwater caused serious damages to people and the property, 17 people died from December 5- 7.
Yesterday, the water level on local river systems of Quang Ngai and Binh Dinh reached up to level 3.
The floodwater inundated more than 1,000 houses under 0.5- 1meter water, made landfall of ten interprovincial traffic roads.
Rising water on Tra Khuc River caused 20 kilometers of talus landslide in Quang Ngai. In the face of the breakdown, the People's Committee in Quang Ngai and functional forces cleaned up stone embankment and repaired dyke systems.
Irrigation reservoirs respectively open water release
Long- lasting medium- heavy rains occurred in the south central region in the past three days.
The highest rainfall in Khanh Hoa and Ninh Thuan reached at 80- 150 mm, even up to 300 mm in some places while local irrigation reservoirs continued to release water. It is forecast that localities in two provinces will continue to facing floods.

In Ninh Thuan, around ten irrigation reservoirs started releasing water with a volume of 100 meter cubic per seconds.
Statistics showed that the heavy rain and flood destroyed over 600 hectares of rice crops, 70 hectares of shrimp ponds, 1.2 hectares of fishing farming and 40 hectares of salty crops and 100 houses.
Heavy rain in parallel with water release from nine irrigation reservoirs caused devastating flood in the low areas of Khanh Hoa.
Adopting anti-flooding measures
Vietnamese Prime Minister Nguyen Xuan Phuc has just sent an emergency message to the flood affected localities to quickly overcome the consequences and help keep stability to people's lives.

The PM condoled with the victim's families and shared with difficulties of local authorities. He asked the People's Committee of the provinces and relevant agencies should adopt necessary measures for anti-flooding, instructing residents out of damaged zones.
In addition, Mr. Nguyen Xuan Phuc also asked the Ministry of Trade and Industry to control the operation of reservoirs and hydropower plants; and Ministry of Transportation quickly overcome consequences of the landslide to ensure smooth traffic.