Three consecutive cold spells over a period of one week have slammed the northern and central regions, plunging temperatures down 8-10 degrees celsius in the north and even 3-4 degrees in some mountainous areas.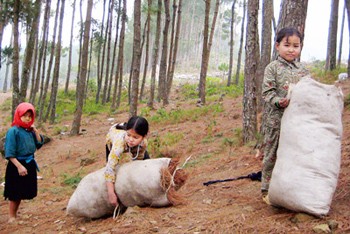 (File) Children picking pine cones to heat their homes in Meo Vac District of Ha Giang Province (Photo: SGGP)
According to the National Hydro Meteorological Forecasting Center, the third cold front hit the northern provinces on Saturday, which further decreased mercury levels in the northern and central regions.
Approximated temperatures in Mau Son Mountain in Lang Son Province were 3 degrees celsius and about 7 degrees at the Pha Din Mountain Pass in Son La and Sin Ho District in Lai Chau.
Temperatures hovered around 12-14 degrees in Hanoi and some other provinces in the Red River Delta.

Luu Minh Hai, director of the Hydro Meteorological Center in Lao Cai Province said that Sa Pa District has seen the lowest temperatures of 4.4 degrees since the beginning of winter.
Thick fog and mild showers in some areas are making the weather conditions bitterer in the north. People have not gone out to their fields for the last two days.
Do Thi Lien, chairwoman of the Dao Duc Vegetable Cooperative in Dong Anh District of Hanoi said that vegetables farms in Hanoi, Vinh Phuc and Bac Ninh Provinces have seen sharp reduction in output over the last 10 days due to severe cold weather. Many varieties of vegetables have been destroyed with the frost occurring late evening and night.
Peach tree growers are concerned as the present harsh conditions could delay blossoming. The lingering extreme cold is also beginning to kill cattle in the mountainous areas as it did last year.
This present cold spell is expected to be over by December 15, when another cold front is set to roll in, prolonging the chilly weather.
Le Thanh Hai, director of the national weather bureau forecasts that severer cold spells might occur in January and February next year.
In related news, a tropical depression has occurred in the East Sea since Saturday, according to the National Hydro Metrological Forecasting Center.
By 7am Sunday, the depression was located 9.5 degrees north latitude and 115.5 degrees east longitude, 390 kilometers northeast of Truong Sa (Spratly) Islands. Wind gales near the centre of the depression reached level 6, moving at 39-49 kilometers an hour.
Within the next 24 hours, the depression will move west southwest at 10 kilometer an hours to locate 230 kilometers off Truong Sa Islands by Monday morning, though wind gales will remain unchanged.
The tropical depression and the cold front have made the East Sea rough and choppy.