The hot, sunny weather in the southeastern region and the Mekong Delta will continue until the middle of April, the weather bureau has forecasted.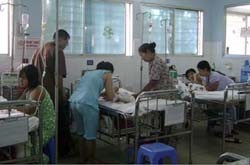 More children are treated at the Children's Hospital No.1 HCM City during hot spells (Photo: Dan Tri)
Temperatures would hover around 37º C in Ho Chi Minh City and the southeastern provinces and 36º C in the Mekong Delta, the Southern Hydro-meteorological Center's Forecast Department said.
Le Thi Xuan Lan, the department's deputy head, said it is the peak dry season in the region.
Elsewhere, the average temperature is 36.6º C in Dong Nai, 36.5º C in Chau Doc District of An Giang Province, and 36º C in My Tho town.
The hot and muggy weather causes a strong build-up of convectional clouds, occasionally bringing heavy showers and thunderstorms in the afternoon and evening.
This phenomenon was seen in the closing days of March. On the evening of March 31 Tay Ninh and Long An Provinces and HCMC experienced severe thunderstorms and squalls.
Scattered showers and thunderstorms are forecast on April 2 in the southern region, with Mekong provinces like Ca Mau, Kien Giang, An Giang, and Dong Thap getting medium and heavy rains.
Ms. Lan warned that people should watch out for heavy winds.
The continuing hot weather, however, would cause a shortage of water for breeding and cultivating.
 
Until May every year seawater penetrates into the river mouths and canals as the Mekong River runs low. In Ben Tre Province, the salinity has soared to 4 per mill.
In other coastal provinces like Tien Giang, Tra Vinh, Soc Trang, Bac Lieu, and Ca Mau, the salinity has begun to affect daily life and farming.
Farmers have been warned about the sudden increase in the salinity of fish- and shrimp-breeding ponds.