Are the recent historic flooding in Ha Noi and high tides in HCM City that inundated many rural districts early signs of the impact of climate change on Viet Nam?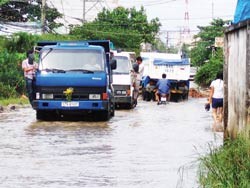 High tides flood Hiep Binh Phuoc Ward in Thu Duc District
Vietnam is said to be among the countries facing the severest threat from climate change.

Mr. Tran Thuc, director of the Vietnam Institute for Hydrometeorology and Environment, warned that sea levels in the country's vicinity could rise by 33 to 45 cm by 2050.

If that happens, an estimated 14 million residents in the Mekong Delta would be displaced, over 40,000 square kilometers of farmlands in the Red River and Mekong River Deltas would be flooded, and 1,700 kilometers of coast could be eroded, he added.

Dr. Nguyen Huu Ninh, a climate change expert, said Hai Phong and Ho Chi Minh are among the 10 cities in the world facing the highest risk of flooding. The others are Mumbai and Kolkata in India, Guangzhou and Shanghai in China, Dhaka in Bangladesh, Bangkok in Thailand, Rangoon in Myanmar, and Miami in the US.

In a recent report, the Ministry of Agricultural and Rural Development has said the sea level has risen by 20 centimeters in many southern provinces, resulting in salt intrusion of saltwater. In many places dykes have to be built to prevent further encroachment by the sea.

But what is the government doing to address these problems?

There are national programs in place to minimize the impacts on farming. Aside from an action plan to ensure the efficiency of the drainage system, local and foreign experts are focusing on animal husbandry, aforestation, and fisheries.

They are also looking for solutions to problems triggered by climate change – like saltwater intrusion into rivers, lakes, and paddy fields, larger storm surges, heavier rainfall, flooding, loss of farming and residential lands, mass migration from low-lying areas to higher ground, failure of crops, and the disruption of the ecological balance.

Experts said, however, that the government' s policies to cope with climate change would not work effectively unless there is close cooperation between the government, privates sector, and individuals.

It is necessary to protect wetlands and coastal habitats that are threatened by overbuilding because they serve as natural barriers to storm surges, they added.