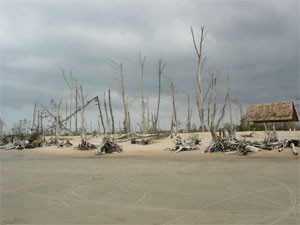 Cold air stream may cause sea change in the coastal areas (Photo: Thuy Hang)
Hail and whirlwinds may strike northern Viet Nam on Monday night due to a cold air stream, according to the Central Hydro-Meteorological Forecast Center.


The Central Northern region may see some rain and thunderstorms with very strong winds coming in from the Gulf of Tonkin and coastal areas.
The temperature in the Northern provinces will turn cold this evening, falling to as low as 13 degrees Celsius and possibly lower (8 Celsius degrees) in mountainous areas like Sapa and Lao Cai.