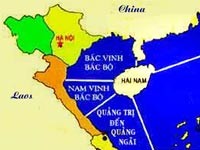 (Designed by T.C.)
According to the Central Hydrometeorology Forecast Center, the continental cold spell controlling weather of the North and coastal provinces in Central part has weakened in recent days.
However, it will strengthen on February, 27 and 28, 2006. The temperature in the North will lower averagely to 12 - 17oC, and 11-15oC in the highland areas.
There will be drizzles in some regions. On February 25 and 26, 2006, Northern provinces had light rains; the temperature was cold, and humidity was from 90 to 91%.
According to the Meteorological Bureau under the Ministry of Agriculture and Rural Development, the rainfall was only light, but it helped reduce the amount of evaporated water and prevented fields and rivers from running dry quickly.