A cold front has moved into Vietnam from China, sending temperatures in the northern region plunging by 3-5ºc, the Southern Hydrometeorology Forecast Center said December 22.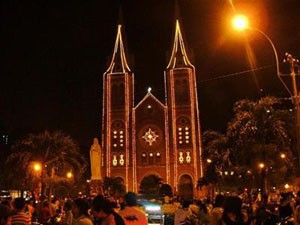 A view of the cathedral in HCMC. The weather bureau has forecast a cool Christmas this year, with the southern metro seeing temperatures of 17 to 18º. (Photo: Tien Phong)
In Sapa and Sin Ho districts of Lao Cai and Lai Chau Provinces they have fallen to 0-3ºc, and snowfall is forecast in these areas.
The weather overall during Christmas is expected to be colder this year.
Northeastern provinces are also expected to have light rain, while the central region from Da Nang to Khanh Hoa Province could see medium to heavy rainfall.
In the south too, temperatures are set to fall, making for a cool Christmas.
The minimum temperature is expected to fall to 17 to 18ºc in Ho Chi Minh City, and to 16 to 17ºc in neighboring Dong Nai and Binh Phuoc Provinces.
In Da Lat, it would be a cool 9 to 10ºc, the center said.