The uninterrupted cold front is forecasted to affect directly to the northern region by January 21, reported the National Hydrology Meteorology Forecast Center yesterday.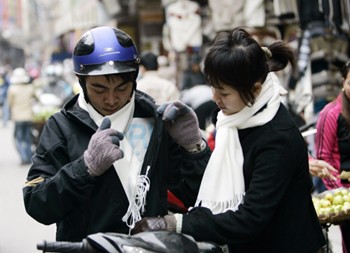 Cold front will hit the northern region in the upcoming days. (Photo:SGGP)

Gulf of Tonkin, the offshore of territorial waters of the central and southern region will suffer the cold weather accompanied with level 9- 10 northeast monsoons.

This is the strongest operation of cold front hitting the northern region of Vietnam so far, said the National Hydrology Meteorology Forecast Center.

According to forecast weather, the frost and snow rains will occur in the northern mountain provinces because of the influence of damaged cold on the large scale.

The Hydrology Meteorology Forecast Centers in Asia- Pacific region announced that the temperature in Hanoi will drop rapidly and keep at less than seven degrees Celsius on Saturday and Sunday.

Meanwhile, the temperature in both Ho Chi Minh City and the southern will increase at 2- 4 degrees Celsius from Tuesday to Friday. The highest temperature in the areas will reach at 36- 37 degrees Celsius, and the lowest temperature at 23- 24 degrees Celsius.