A cold front is going to enter in the northern and central region of Vietnam, this night, and it will affect to the northern mountainous areas, north central north west and mid central region, reported the National Hydrology Meteorology Forecast Center on October 29.
Due to cold front, the north and north central provinces will see showery weather on the large scale.
From November 1, cold front will cause medium to heavy rains in the mid central region and the wind speed will blow at level 3 in the mainland and at level 4- 5 in the coastal regions.
From October 31, Gulf of Tonkin, northern territorial water of East Sea, including Paracel Island will see level 6- 7 strong wind, gust up to level 8- 9, sea rough.
The territorial waters from Quang Tri to Binh Dinh provinces will see level 5- 7 northeast wind speed and sea rough.
According to forecast weather, the temperature in the northern and central provinces will reduce at 5- 6 degrees Celsius and 2- 3 degrees Celsius respectively.
Meanwhile, thick fog will appear in the area of Ho Chi Minh City and the southern in morning. The highest temperature in the areas is forecast to reach 33- 34 degrees Celsius.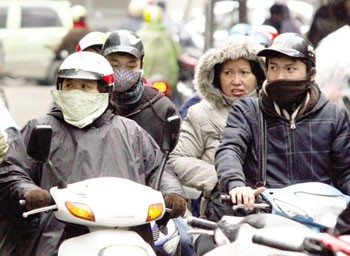 Cold front hits the northern region. (Photo:SGGP)