A cold front is going to enter in the northern provinces of Vietnam, causing the temperature dropped from 3 to 5 degrees Celsius, according to the National Hydrology Meteorology Forecast Center.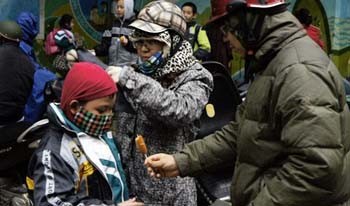 Cold weather shoulders over the northern region (Photo:SGGP)
In Sa Pa, the moutaint district of Lao Cai province, the highest temperature decreases rapidly at 10- 12 degrees Celsius, at 14- 16 degrees Celsius in the northern mountain provinces.
 
Because of the influence of large scale heavy rains and wind convergence from the cold front, flood has overflowed from upstream of the Chay River on November 13.
 
Dealing with the weather condition, the Steering Committee for Natural Disaster Prevention asked Tuyen Quang Hydroelectric Plant to open a door to release water. At present, the water level in the area reaches at 1.600 cubic meter per second.
 
Ho Chi Minh City and the southern provinces enjoyed beautiful weather on Saturday and Sunday. Meanwhile, sunny weather daytime, rains at night and 20- 28 degrees Celsius temperature have experienced in the central region.