According to the National Hydro Meteorological Forecasting Center, a cold front is set to move into the northern region by March 31 and likely to bring in more hailstorms.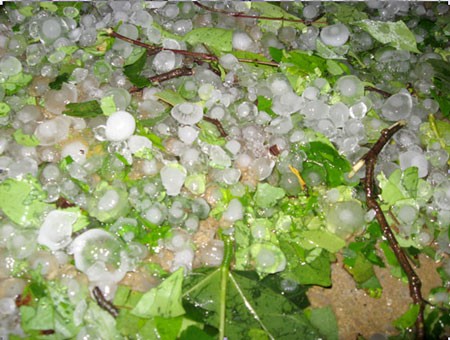 Hailstorms the size of chicken eggs fell across the northern and north-central regions (Photo: Lao Cai Newspaper)
The cold front is expected to trigger rain and thunderstorms in the northern region and reduce temperatures to 17-23 degrees celsius. Mountainous areas will see mercury fall to almost 14 degrees celsius in some places.
Meteorologists said that the cold front might also bring in more hailstorms in the region.
Over the last few days, cold fronts have triggered hailstorms across the northern provinces of Lao Cai, Ha Giang, Thai Nguyen and Tuyen Quang, causing extensive damage.
A severe hailstorm accompanied by strong winds across Quan Son and Quan Hoa Districts in the north-central province of Thanh Hoa on night of March 30 caused serious widespread damage within just 10-17 minutes. Hailstones the size of chicken eggs fell in the first hailstorm of the year in the province.
At the same time, a 15-20 minute hailstorm hit Tuong Duong District in the neighboring province of Nghe An, causing damage to 73 houses and tens of hectares of farm crops.
The northwestern province of Lao Cai was the worst hit with two heavy hailstorms devastating widespread areas on March 27 and 29. 
Prime Minister Nguyen Tan Dung has instructed the People's Committee in Lao Cai Province to mobilize as much personnel to help local residents repair their damaged homes, treat the injured and resume farm cultivation again.