Affected by the northern cold fronts, several southern provinces have experienced thick fog in mornings and at night since Thursday. The thick fog also caused showers to develop in Ho Chi Minh City.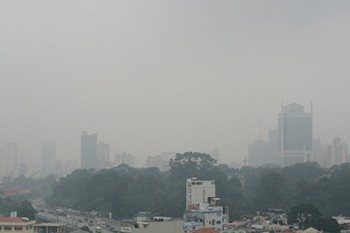 (File photo of VnExpress)
Nguyen Minh Giam, deputy director of the Southern Regional Hydro Meteorological Center said that the cold fronts affecting the north have made the south more humid, resulting in foggy conditions.
Poor visibility and foggy condition might last another several days, said Mr.Tăng.
Meanwhile, the northern weather has been sunny but very cold in many places.
The National Hydro Meteorological Forecasting Center said that a new cold front is heading into northern Vietnam and will affect the area from tonight onwards.
From tomorrow, it will create scattered showers in the northern region and medium to heavy rains in the central region.
Northern provinces will remain extremely cold and continue to experience icy condition, the center said. The common temperature in mountainous areas will only be 4-6 degrees Celsius.
In related news, head of the Livestock Production Department Hoang Kim Giao said yesterday 5,268 head of cattle have died because of the cold weather in the north.