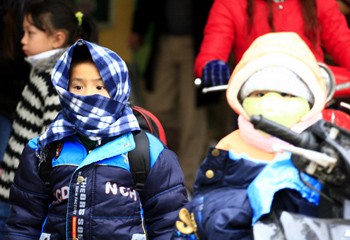 Children brave the extreme cold in Hanoi (Photo: VnExpress)
Another cold front has affected the northern and central regions, intensifying the current cold spell to drop temperatures even further, since Thursday morning.
The cold front will continue to spread to the mid and southern central regions by today.
The northern regions might experience light to medium rainfall while the central coastal provinces will see torrential downpours.
Temperatures may drop 3-4 degree Celsius in the northern regions as well as the mountainous areas, which have already suffered harsh cold weather conditions.
Northeasterly winds have intensified to level 7, blowing at 50-61 kilometers per hour in the Gulf of Tonkin and towards the mainland.