A cold front from the north will affect Vietnam's southern and Central Highlands regions, Le Thanh Hai, deputy director of the National Hydrometeorological Forecast Center, said November 16.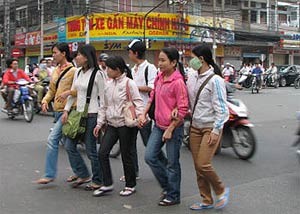 Ho Chi Minh City dwellers wear overcoats during a cold spell last year (filed photo)
Though the daytime weather will continue to be sunny, with the temperature at a high of 29-30 degrees Celsius, nights will be fairly chilly.
Most areas in the north and the central part of the central region are experiencing cold weather and, according to Mr. Hai, will have fog.
The cold spell is likely to last at least five days, he said.