According to Le Thanh Hai, deputy director of the National Hydro Meteorological Forecasting Center, the northern region will celebrate the Tet Festival in cold weather because a front is likely to move in by February 8.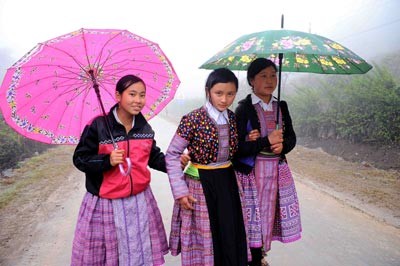 People in the northern region will see cold Tet holidays (Photo: SGGP)
The weather has become warmer in recent days and will remain like that until February 7. Highest temperatures might reach 27-30 degrees Celsius in the northwestern region and 25-28 degrees in the northeastern region.
However the humidity will be rather high, up to 90-95 percent in early mornings, in the Red River Delta.
From February 8, a strong cold front will head south to cause chilly condition in the northern and north-central regions. Drizzles will make it colder.
Temperatures will drop to 14-16 degrees Celsius from February 9-11. Mountainous provinces like Ha Giang and Lao Cai are expected to reel under the bitter cold. The cold condition might linger until February 17.
Meantime, the southern and central highland regions will be cool with common temperatures swigging between 20 and 23 degrees in the main Tet festive days. It will return sunny and muggy with the mercury hovering to 33-36 degrees by the end of the Tet holidays.