Cold weather has covered the Northern and North Central provinces, causing dark sky, dull weather and rain in the some places, announced by the National Hydro Meteorological Forecasting Center on January 9.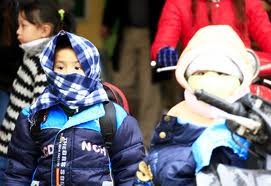 Cold weather covers Hanoi City(Photo:SGGP)
Current weather in Northern and Central provinces becomes colder. The daily temperature in the area also is dropping sharply under cold weather.
Thus, the Central Highlands and the Southern provinces will be shrouded in a thick blanket of fog and cloud early mornings and sunny in the afternoon.
Particularly, the daily temperature in Ho Chi Minh City will be at 22- 28 degrees Celsius and rain will happen in the night.
According to forecast weather, a new cold spell will enter the Northern provinces, causing damaging cold in the region at the end of January.