A cold front is hitting the northern region of Vietnam which caused medium to heavy rains on a large scale, reported the National Hydrology Meteorology Forecast Center yesterday.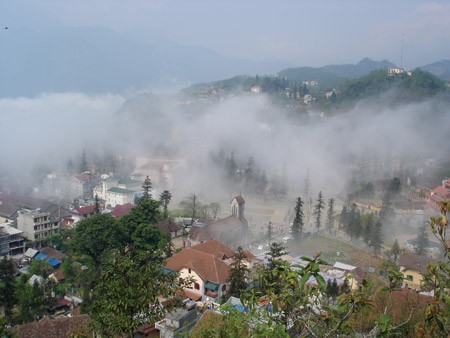 (Photo:SGGP)

Currently, the highest temperature in the northern mountainous provinces dropped rapidly at 11- 14 degrees Celsius, at 8- 10 degrees Celsius at Sa Pa town in Lao Cai.

The cold weather impacted directly to the west northern and northern central provinces yesterday evening; and according to forecast weather, the cold weather will come south, impacting the mid- central and southern central region in the upcoming days.

Because of the influence of the cold front, provinces from Thanh Hoa to Khanh Hoa will see medium to heavy rains.

Deep fog will appear in the areas of Ho Chi Minh City and Central Highlands.

By evening today, showery weather is to occur in Ho Chi Minh City. On November 27, sunny weather without rains and 24- 33 degrees Celsius temperature will experience in Ho Chi Minh City.