The National Hydro Meteorological Forecasting Center has said that the current cold weather conditions are to continue in the northern region as another cold front is expected by tonight, December 17.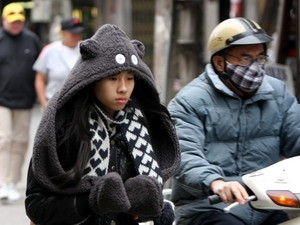 Northern region has been reeling under bitter cold conditions for a long time (Photo: VNA)
The cold front will also affect provinces the north central region and in the north will continue to reel under bitter cold from December 18.
After December 22, another severe cold front will slam the northern region to add to the prevailing cold conditions there.
 
According to the national weather bureau, the central, central highlands and the southern regions must gear for a severe dry season.
River levels in the central provinces from Nghe An to Binh Thuan will be much lower than normal. Water shortage and drought conditions will occur in several areas in these regions.
 
Salt intrusion will occur early and penetrate 40-60km into the mainland in the Mekong Delta.