The National Hydro Meteorological Forecasting Centre predicts that by Sunday night or Tet Lunar New Year Eve a severe and powerful cold front moving towards Vietnam is expected to slam into the northern provinces.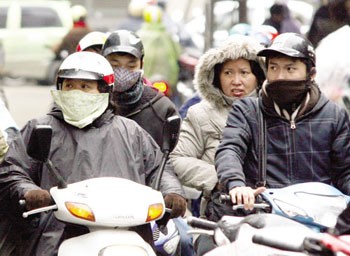 Hanoi will remain very cold during the Tet holidays (Photo: Thanh Nien)
Soon after hitting the northern region, the cold front will spread to the central region on the very first day of Tet Lunar New Year.
As a result, northern and central provinces will experience freezing conditions once again from Sunday onwards, with temperatures set to slide further during the following few days.
Showers will be widespread, worsening the cold. Temperatures will fall to 9-10 degrees Celsius, or even 3-4 degrees in the mountainous areas.
Sa Pa District in Lao Cai Province and Mau Son Mountain in Lang Son Province might see ice and snow.
Le Thanh Hai, director of the national weather bureau said that Ho Chi Minh City and other southern provinces will also be affected by this cold wave. Mercury is expected to slide to 17-20 degrees at night. Early mornings will see fog but will turn sunny during daytime.
This cold spell is forecast to prolong for about 5-7 days, the forecast centre stated.