Typhoon No.3 weakened into a low pressure after making landfall in the south central provinces from Da Nang to Quang Ngai yesterday evening, announced director of the National Hydrology Meteorology Forecast Center Hoang Duc Cuong.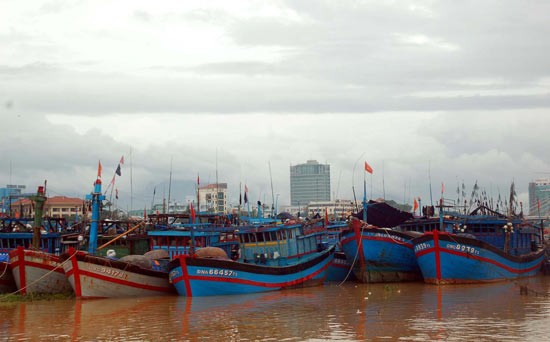 Fishing vessels move safer places to avoid the typhoon.(Photo: SGGP)

Earlier, the storm circulation caused level 6- 8 strong wind speed at Ly Son and Con Co islands.
 
The south central coastal provinces from Quang Binh to Da Nang saw level 6- 7 wind speed. The typhoon caused prolonged heavy rains on the large scale from Ha Tinh to Binh Dinh provinces with total of rainfall at 100- 150mm, even in some places at over 200 mm such as Ha Tinh, Quang Nam and Quang Ngai.
During the online meeting on natural disaster prevention and control yesterday, head of the National Steering Committee on Natural Disaster Cao Duc Phat asked leaders, authorities and functional forces to strengthen houses, schools and health centers as well as call fishing vessels to move safer places to avoid the typhoon.
 
In early morning today, the low pressure zone was located at 15, 3 degrees north latitude and 107, 7 degrees east longitude at border between Vietnam and Laos. The strongest wind speed near center blew under level 6.
 
According to forecast weather, the south central, north central and northern region will suffer prolonged heavy rains after the storm.
 
Particularly, rainfall in the provinces from Quang Binh to Binh Dinh, Kon Tum  and Gia Lai is estimated to be at 200- 300 mm on September 14- 16.
 
Rainfall in the areas from Thanh Hoa to Ha Tinh provinces will reach at 100- 300 mm on September 15- 18.