Cyclone and hail swept through the central province of Quang Tri's Gio Linh and Vinh Linh district, causing serious damages, reported Chairman of the People's Committee of Quang Tri province Nguyen Duc Chinh.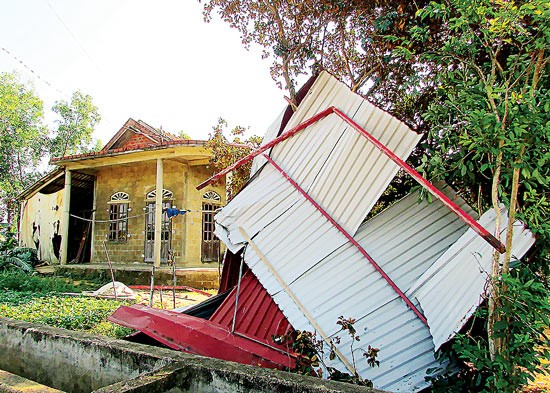 More than 80 houses at Vinh Son commune in Quang Tri were unroofed. (Photo:SGGP)
Cyclone and hail blew houses, high voltage systems, trees and hundreds of hectares of pepper cultivation at Vinh Son Commune in Vinh Linh district.
Strong winds unroofed nearly 150 houses in Vinh Son, Vinh Giang and Vinh Thuy Commune. Moreover, constructions of markets, schools and health centers also were destroyed by strong wind, said head of Department of Agriculture and Rural Development of Vinh Linh district Le Tien Dung,
Head of department of Agricultural and Rural Development of Gio Linh district Le Van Vien said that there were at least 60 unroofed houses in the region.
Currently, local authorities in collaboration with functional forces help residents repair their houses.