The northwestern province of Lao Cai on Tuesday morning was lashed by a cyclonic storm and hailstorm, brought about by a cold front, which slammed into northern Vietnam following several days of persistent hot weather.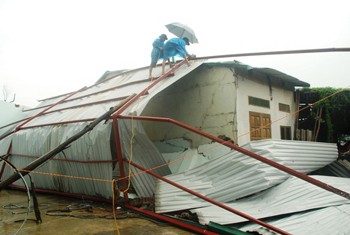 The cyclone destroys houses in Lao Cai Province on May 15 (Photo: Tuoi Tre)
The cyclone generated gusts of up to level 7-8, moving at 50-74 kilometres an hour, and bringing with it 0.5-1cm of hailstones.
Hail also fell in some places in the northern mountainous region.
In Lao Cai City, the 20 minute long cyclonic storm blew off rooftops of 35 houses and uprooted more than 100 trees. Several streets were submerged under 70cm of floodwater, which even flowed into people's houses.
Besides Lao Cai, several other areas in the northern region also saw heavy rain, easing the severe hot conditions and providing water for hydropower plant reservoirs.