Heavy rains had begun to abate in the northern flood stricken region by yesterday evening. With the floods receding, which have caused extensive damage and killed scores of people, SGGP visited Bac Kan, the worst affected province, to report on local people's efforts to overcome disaster.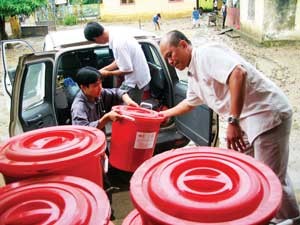 Relief being delivered to flood stricken areas
Fishing golden stalks of rice from the flood water with her hand spattered with mud, 70 year old Ca Thanh Lang of Na Be Hamlet Nhan Mon Commune, tearfully said, "The rice was ripe. We were about to reap it when the flood came and swept everything away. We have nothing to eat now but some gleaned rice."

But Mrs Lang's family is not the only tragic case in the hamlet.

Ma Van Muon, chairman of the Nhan Mon People's Committee, said that many households in the hamlet have been plunged into chaos after losing their houses, cattle, poultry and crops to the flood.

Mr Muon said, "What we have to do now is to provide the victims with food and help the local people overcome the consequence of the flood as soon as possible. For the five families whose houses had been swept away, we are inviting contributions from the community to build new shelters for them."

Indeed, people in the commune were found helping each other get through the rough times. They were raising a subscription to help the three families whose members had lost their lives in the frenzied water.

Two coffins, 136 kilos of rice and one million dong had been donated to victims' families so that they could organize funeral services for their ill-fated relatives and give food to those who survived the flood.

Truong Chi Trung, chairman of Bac Kan People's Committee, and Dao Ngoc Dung, deputy head of Northwest Steering Committee, have also visited the families that suffered most loss and damage in the district, and offered words of comfort and encouraged them to try their best to overcome adversity.

In Khen Ken Hamlet, Cong Bang Commune, where five families had been buried under a landslide, the number of rescuers has risen to nearly 200.

Such volunteers continue their search for those who have been buried under ground. They are also building dozens of tents a kilometer from Khen Len for evacuees.

Colonel Hoang Ngoc Dat, head of Pac Nam Military Steering Committee, said that the search for dead people was making slow progress.

He pointed out that it was really hard for rescuers to get access to the scene, as landslides had blocked roads.

At present, although the road leading to the center of Nhan Mon Commune has been cleared, four hamlets in Pac Nam District are still isolated because of floodwater and landslides.

Mr Trung stressed that the most important task for municipal authorities is to continue looking for the dead and find new places for the people in Na Be and Khen Len villages to be resettled, as all the fertile soil there has been swept away.

Recent heavy rains and floods killed 18, with 11 people missing, devastating more than 780 houses and destroying 303 hectares of rice and 336 hectares of vegetables.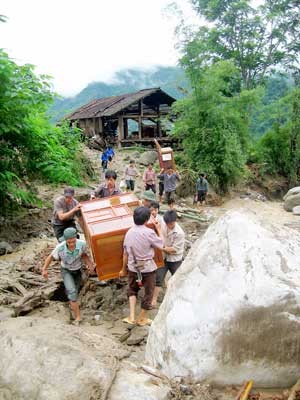 Soldiers help local people in Khen Len Village move their furniture to safer ground
Many organizations, agencies, businesses and individuals have sent money, food, clothes and medicines worth nearly VND1 billion to Nhan Mon and Cong Bang communes to help the victims.

Among them, Van Loi Steel and Metallurgy in Bac Kan contributed VND500 million.

Yesterday, the deputy head of Vietnam Red Cross, Phung Van Hoan, and his team brought 200 cartons of relief to Pac Nam District, 30 of which were given to victims in Nhan Mon.

The Bac Kan Safe Water and Environmental Hygiene has provided water treatment chemicals to Nhan Mon and Cong Bang to ensure that 6,000 local people will have enough safe water to drink for a week.

Petrovietnam has announced that it will build houses as gifts to 30 families in Bac Kan, Cao Bang and Lai Chau, whose houses had been swept away by the flood. Each house is worth some VND30 million.

To prevent the affected areas from infectious diseases, especially in the context of the current global epidemic risk of A/H1N1 flu, the Ministry of Health has requested relevant departments of health, hospitals and medical centers to have appropriate measures to help communities deal with problems related to hygiene and epidemic prevention.