For the last three days, the entire northern region has been blanketed with thick fog accompanied with little drizzle, reducing visibility to 3-5m in mountainous areas and 10m in the plains.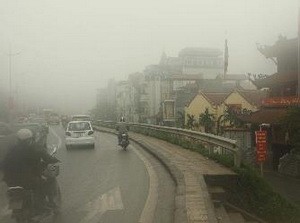 Dense fog blanketed the entire northern region (Photo: VNA)
According to the National Hydro Meteorological Forecasting Center, the fog was worst on December 1 with humidity reaching 90-100 percent. In Hanoi, vehicles moved to a crawl to prevent traffic accidents.
Since last night a new cold front has slammed the northern region and will spread to the central region by today, December 2. The cold front will bring heavy rainfall and plunge temperatures, but will clear the fog.
Temperatures will fall by 3-5 degrees celsius, with chilly conditions early mornings and late night.
The southern region remains sunny with mercury swinging from 31-34 degrees celsius. Ho Chi Minh City continues to face flooding from high tide in several areas.