According to the National Hydrology Meteorology Forecast Center, a tropical low pressure was weakened into the low pressure zone after it entered the central territorial waters from Ninh Thuan to Binh Thuan yesterday.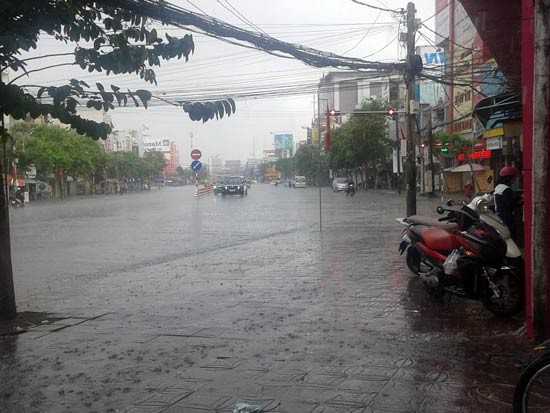 (Photo: sggp)
The low pressure zone brought heavy downpours and powerful wind of level 6- 8 in the southern territorial waters from Ninh Thuan to Ba Ria- Vung Tau provinces.
Besides, the strong operation of the tropical low pressure and turbulence of east wind caused medium- heavy rains in the provinces from Quang Ngai to Binh Thuan with the highest rainfall of 50- 100 mm.
Medium- heavy rain is predicted to cover over Ho Chi Minh City, the southwest and southeast provinces today and the highest temperature reaches at 28- 29 degrees Celsius.
Meanwhile, cold air has affected to the northern mountainous provinces since last night.
The turbulence of east wind has caused a drop in temperature in the northern region however medium- heavy rains would continue hitting the central provinces from Quang Binh to Ninh Thuan from December 14- 17.
The weather center warned that floodwaters on Ba river (Phu Yen) and river systems in Khanh Hoa province are rising rapidly. The flood level on river systems of Thua Thien- Hue, Quang Nam, Quang Ngai, Binh Dinh, Khanh Hoa and Ninh Thuan will continue increasing in the next several days.
Flood tide at the Cuu Long (Nine Dragon) and Sai Gon rivers is forecast to record high on Wednesday and Thursday. The highest water level on Sai Gon river at Phu An station will reach 0.1 meters.