The People's Committee of Dong Thap province announced that 20 heavy rains accompanied with lighting, thunderstorms, cyclones and powerful winds swept through the Mekong Delta's province from January to August.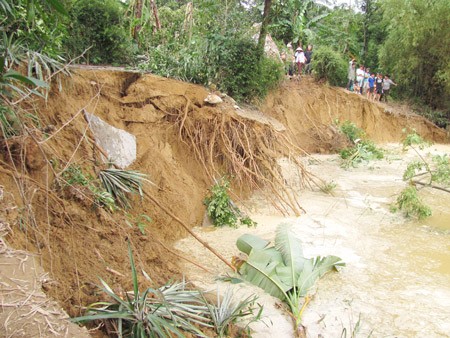 (Photo: SGGP)
As result, 300 houses, 230 hectares of rice, vegetable & fruit crops, and electric poles were destroyed by the weather condition. Worse, a person was injured due to the natural disasters.
Landslide continued hitting some places of Dong Thap province such as Lai Vung, Chau Thanh, Hong Ngu, Cao Lanh, Thanh Binh with total damage up to over VND 14, 6 billion.
Currently, Vietnam officially enters rainy season, so Dong Thap authority asked relevant departments and agencies need to conduct timely methods against natural disasters, protect life and property of local residents.