A tropical low pressure system intensified into Tropical Storm 'Cimaron' on the morning of July 17, which has stirred the northeastern parts of the East Sea, according to the National Hydro Meteorological Forecasting Center.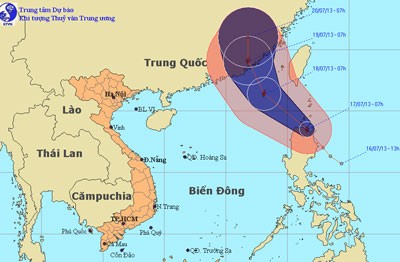 Chart shows direction of tropical storm 'Cimaron' (Photo: National Weather Bureau)
By 7am, the storm was located north of Luzon Island off the Philippine coastline. Strongest winds near the eye of the storm reached level 8, moving at 62-74kph.
Storm Cimaron will move northwestwards at 15-20km an hour in the next 24 hours. By 7am on July 18, the eye of the storm will be located at the northeastern part of the East Sea, but wind gales will remain unchanged.
The storm is expected to make landfall in Guangdong Province of China by July 19.
The southern waters off Binh Thuan to Ca Mau Provinces are currently choppy with progressive southwesterly winds.