The weather bureau is forecasting more rain for this month compared to last May.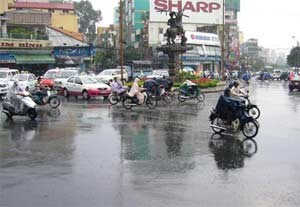 It was rainy on Liberation Day and May Day in Ho Chi Minh City

Ms. Nguyen Lan Chau of the Central Hydrometeorological Forecast Center says the early rainfall seen in some areas since April has been greater than in previous years.

It's the La Nina phenomenon that is causing the increased precipitation as it tends to bring storms and floods, unlike its opposite, El Nino, which is blamed for hot spells and drought.

The bureau is forecasting that six to eight typhoons will come in from the Eastern Sea and strike the mainland this year.

Even though La Nina is weakening already, its effects should be felt until August or September so southern Viet Nam can expect heavier-than-usual rain over the next six months, says Ms. Le Thi Xuan Lan of the Southern Regional Hydrometeorological Forecast Center.

The heaviest falls in the south are likely in July, September and October as the many tropical lows of the wet season generate stronger southwesterly winds along the main river basins.