Le Thanh Hai, deputy director of the National Hydro Meteorological Forecasting Center, said that another very severe cold front will hit the northern region by the end of this month, causing extreme temperatures across wider areas.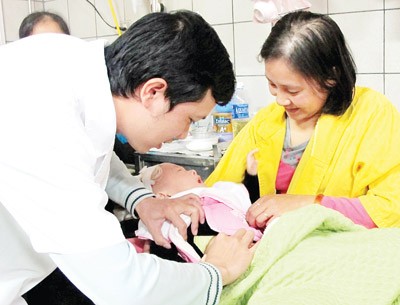 Several children and elderly are in hospitals in the northern region due to the cold wave (Photo: SGGP)
Icy conditions might continue to occur in mountainous areas when the cold front moves in.
In the next seven to ten days, there will be two mild cold fronts in the northern region, expectedly on January 16 and 22.
This year, the southern region will not be much affected by the northern cold waves. When a cold front hits the northern region, the southern region also experiences cooler or colder temperatures at night and early mornings. Temperatures drop to 17-18 degrees celsius at night time.
The Minister of Agriculture and Rural Development has sent a dispatch to people's committees in the northern, central and central highland provinces, asking them to help residents to cover their herds of livestock from the chilly weather.
Chairman of the People's Committee in Hanoi has instructed relevant departments to open hundreds of places to sell vegetables to serve residents during this prolonged cold wave.
 
According to the Southern Regional Hydro Meteorological Center, salt intrusion has further penetrated inland in the Mekong Delta over the last one week, with salinity up to 8,2‰.
Salt penetration has occurred earlier because of receding water levels in the upper reaches of the Mekong River, creating conditions for high tide and southeasterly winds to worsen the salt intrusion. This affects residents' lives and rice production in coastal provinces like Ben Tre, Tra Vinh and Soc Trang.