Nguyen Tan Thanh in Quang Binh Province puts the bed in a higher place to escape floodwaters (Photo: SGGP)
Five people have died and ten people are reported missing after heavy rains in the central and highland provinces in the last few days.

Rescue crew and local authorities and residents in Nghia Hong Commune in Nghia Dan District in the central province of Nghe An worked hard to find five of the seven missing people from a car that got swept away by swelling floodwaters over a dam spillway.
In the central province of Ha Tinh, a ship broke its moorings due to huge waves and drifted out to Mui Dung, 1.5 kilometers from Vung Ang Port towards the west.
Subsequently the ship ran against a rock that caused a hole in the ship's body. Vung Ang border security and employees of Maritime Administration in Ha Tinh saved eight sailors in the nick of time.

Heavy rains in the central province of Quang Binh submerged roads in districts Minh Hoa, Le Thuy and Minh Hoa and also Ho Chi Minh Road, leading to traffic congestion.
Quang Ninh District has evacuated 2,500 elderly people as well as women and children to safer shelters.

Quang Tri Province also evacuated 2,500 households. Restaurants, hotels, trade centers and private houses in Lao Bao Town are inundated and people are being transported by wooden boats and banana rafts.

Quang Nam Province said two locals are reported missing and thousands of hectares of summer-autumn crop have been destroyed and roads badly eroded.


In the central highland province of Dak Lak, heavy rains plus water from upstream submerged all communes and towns causing difficulties in daily activities. The authorities in Cu Kbang, Ea Rot, Ea Tmot and Ea Rok in Ea Sup District reported that a number of residents were stranded in a farming area by rising waters.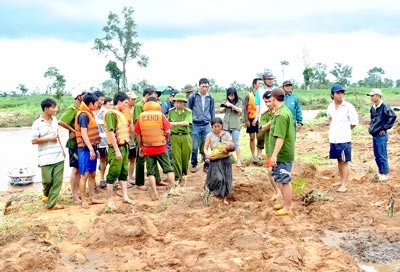 Rescuers find out bodies of locals in Ea Sup District in Dak Lak Province (Photo: SGGP)
Rescuers in Ea Sup District in Dak Lak Province have found and given the bodies of Dao Van Ly, 49, and Hau Thi My, 44, to their relatives for burial.
Rescuers also saved the mother Ly Thi Pang, 47, Ly's wife and their two daughters Dao Thi May and Dao Thi Thuy and moved them to a safe place.
However, six people are still reported missing after 11 were swept away by rising waters of local rivers and streams.

Weather forecast says Super Typhoon Usagi, believed to be the most powerful storm in 2013, was on Friday heading to cross the East Sea. The storm was centered at latitude 17.9 degrees north and longitude 127.7 degrees east, moving westwards at 15 kilometers per hour.