Floods caused from heavy rain falls two days ago hit central provinces on November 14th, becoming the fifth floods in the region within one month.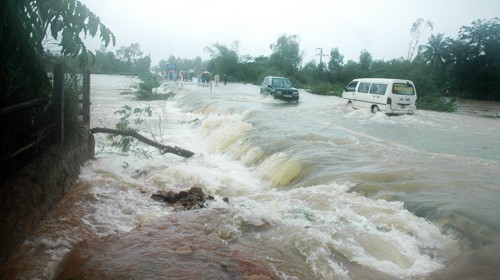 Flood in the Highway !A ( Photo: tuoitre)
A panic flash flooding hit a fishing village in the central province of Quang on the Sunday morning, destroying the only path into the village.
Fisherman Tieu Viet Khang's house was flattened completely. Fortunately, nobody was injured. Panic-stricken villagers fled from houses as cascading soil and water swept away their accommodations and properties.
Meteorologists said on November 14 that central provinces in Vietnam suffered torrential downpours in two days due to tropical low pressure. Rainfalls were registered at an average of 100mm. Rainstorms caused river level rise. As of November 14, river levels exceeded the third-stage warning level by 0.5m.
Young men and border guards were helping to restore destroyed houses. Roads were submerged in the district and traffic on the Highway 1A had slowed to a crawl. Panic-stricken people of 27 households were evacuated to safer shelter on November 14 as the worst floods wreak havoc across the region.
Maintenance crews on November 14 repaired a 30cm wide, 1m deep and 60m long crack on the Highway 1A. However, Viet Nam Roads Directorate deputy director Nguyen Duc Thang said local government will encourage 22 households to evacuate to clear the site for a spare road because the repaired road was still dangerous for the traffic. The Construction is planned to complete on November 16.
Torrential rains in several recent days have separated mountainous communes of the district Bac Tra My and Nam Tra My in Quang nam province. The Truong River was measured over 3m.
As the water showed no sign of abating and the rainfall was excessive, the central province of Quang Nam decided to release water from reservoir Phu Ninh – the second biggest reservoir of Vietnam, said Nguyen Minh Tuan, chief of the province's Steering Board of Storm Prevention and Fighting on November 14.
The central Steering Board of Storm Prevention and Fighting November 14 sent its urgent dispatch to governments in central provinces of Thua Thien-Hue, Quang Nam, Quang Ngai and Da Nang city to order implementation of flood prevention measures, checking of the safety of reservoirs as well as provision of foodstuff, ensure fresh water and necessary items to the most storm-prone areas.
Thanks to valuable assistance of people in the country and international groups, residents in the flood-hit regions have stabilized their living. The central province of Ha Tinh received VND92 billion and US$10,000, Quang Binh got VND85 billion and necessary items, Nghe An- VND24.4 billion and rice, water.
Bui Quang Hoan, deputy head of Ha Tinh's Fatherland Front, said on behalf of Ha Tinh people, he promised to soon rebuild the economy as Ha Tinh has received much help after the disaster.