Residents along coastal and riverside areas in the central region are concerned as their lives and properties could be swallowed up at any time by torrential waters this flood and storm season.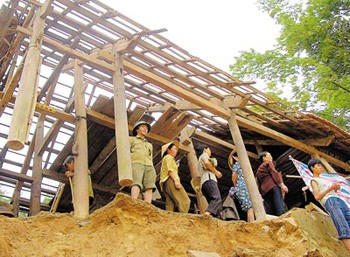 A house on the Gianh Riverbank endangered by land erosion in Quang Binh Province (Photo: SGGP)
Seawaters annually eroded from 50-70 meters more than normal in Thach Bang Commune, Loc Ha District, Ha Tinh Province in recent years, said the Thach Bang People's Committee chairman Tran Dinh Nhu. In addition, the intrusion of salt and sand also neutralized dozens of hectares of farmland.
Along the commune's Xuan Hai Beach, local residents have had to construct restaurants farther inland because the old ones, closer to the water's edge, have been devastated.
In the neighboring commune of Thach Kim, the embankment is just 5-10 meters away from the seawater edge, while it was 200-300 meters away only five years ago.
In Quang Binh Province, high tides collapsed nines houses in Nhan Trach Commune of Bo Trach District in the middle of July. Bac Dinh Village's residents said that seawaters have swept away half their village's land so far.
About 1,000 people living along rivers and beaches in the province face the dangers inherent to land erosion. Meanwhile, landslides have swallowed over 500 kilometers of riverbanks, affecting Tuyen Hoa District most severely.
Things are no better in Thua Thien-Hue Province, as Phu Thuan Commune's beach has invaded farther inland, collapsing dozens of houses in recent years.
Ngo Thi Gai from An Duong Village said that her family has lived in fear, as most of her garden has been swallowed by seawater, while the house has been severely damaged.
Hundreds of other households are also suffering similar outcomes in Phu Vang, Phu Loc, Phong Dien and Quang Dien districts.
In the mountainous district of Tra Bong in Quang Ngai Province, over 60 households with about 308 residents of Tra Lac Village are nervous because of a new cleft in Ca Bot Mountain that measures 70 meters in length and is up to one meter in width at some spots.
The village patriarch Dinh Van Nho said that the clefts occurred a few years ago, concerning local residents, but they do not know where to evacuate and are still awaiting State assistance.
In Nghe An Province, Hung Nhan Commune of Hung Nguyen District annually losses about five hectares of production area due to land erosion. Hundreds of households have to evacuate annually during flood season.
Waiting for Government's assistance
To help coastal residents in Thach Bang Commune of Ha Tinh Province to cope with land erosion, local authorities have mobilized inhabitants to plant casuarinas along beaches and asked relevant authorities for measures to cope with the issue.
Meanwhile, people in Phu Thuan Commune of Thua Thien-Hue Province are still waiting for a resettlement policy to be handed down by provincial authorities.
The Government has assisted Quang Ngai Province withVND10 billion (US$526,000) to build resettlement areas for mountain residents in landslide-prone areas. However, the construction has not been completed on schedule, while the flood season has moved in, placing residents in a dangerous situation.