Since late evening July 3, heavy rains and floods have caused severe damage to the northern mountainous provinces of Ha Giang, Cao Bang and Bac Kan, leaving seven dead and three missing.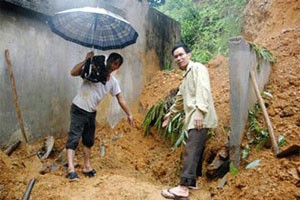 This is the place where a resident of Ta Luy Duong was caught in a recent landslide in Bac Kan Province (Photo VietNamnet)
In Ha Giang Province, heavy rains continue to raise river levels, causing floods in many in low-lying districts, such as Bac Quang, Vi Xuyen, Quang Binh and Bac Me.

Nearly 20 houses were submerged in Phuong Thien Commune.

A man was swept away with his house by floods in Hoang Phu Si District.

The Weather Forecast Bureau predicts that low-lying areas in the district are likely to see flooding increase, with nearby mountainous districts seeing the possibility of landslides.

In Cao Bang Province, landslides have occurred on a section of Highway 34, which links Cao Bang to Bao Lac and Bao Lam Districts, causing severe communication disruption.

In Duc Hanh Commune, Bao Lam District, frenzied floods tore down many houses and swept away four people. Two were rescued, but the others are still missing.

Floods have also killed one man in Vinh Quang Commune of Bao Lam.

The Cao Bang Province People's Committee has instructed relevant authorities of all districts and cities in the province to evacuate people in affected areas to a higher ground.

In Lai Chau Province, the Steering Board for Storm and Flood Prevention and Control of Tam Duong District reported that floods have swept away 63 year old Lu Thi May, resident of Ho Thau Commune.

In Binh Lu Commune, heavy floods have caused severe damage to three suspension bridges: Na Phat, Na Hum and Tan Binh and destroyed five hectares of paddy rice.

In Bac Kan Province, Nguyen Van Du, secretary of the Pac Nam District Party, announced that thousands of cubic meters of rocks and earth have blocked a section of Highway 258B in Nghien Loan and Cong Bang communes, the only street leading to Pac Nam District.

Pac Nam has now been totally isolated.

Heavy rains and floods are reported to have buried nine households, of which, five are located in Cong Bang Commune and the remaining in Nhan Mon.

Four people were found dead, the others are still missing.

Floods also swept away a resident of Nhan Mon.

Nguyen Ba Ngai, deputy head of the Steering Board for Storm and Flood Prevention and Control of Bac Kan Province, said that the board is currently evacuating people living in areas facing risks of landslide to safe ground.