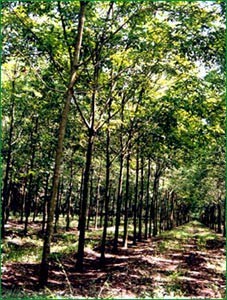 Rubber forest
Early morning of July 15, the tropical foehn wind (hot and dry westerly wind form Laos to Central Viet Nam) sped up suddenly and overblew into the districts of Cam Lo, Gio Linh and Vinh Linh of Quang Tri Province during three hours.


Consequently, thousands of rubber trees were broken down and many roofs were blown off. Rubber farms in Gio Linh and Vinh Linh were the hardest hit, with families losing around 100 rubber trees right in the sap-taking season.
In the meantime, the strong wind leveled hundreds of tombs and caused flying sand in Gio Linh and Vinh Linh.
According to the North-Central Hydrometeorology Forecast Center, the strong foehn may continue for another week, and Quang Tri Province will be hardest hit by this abnormal weather.