Unhygienic food and the overuse of plant protection and stimulants on vegetables and fruits are major obstacles to guaranteeing food safety and exporting Vietnamese vegetables and fruits to foreign markets.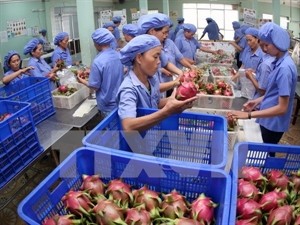 Dragon fruit exports -VNA
At a conference that discussed the production and consumption of vegetables and fruits for sustainable development in Hanoi on May 14, Nguyen Xuan Hong, Director of the Ministry of Agriculture and Rural Development (MARD)'s Plant Protection, said that developed countries, especially the US, Japan, the Republic of Korea, and countries in the EU, which have been the major importers of Vietnam goods, require high-quality, hygienic food, while ensuring environmental protection during their production.
Hong noted that demand from these countries is expected to increase in the coming years.
However, the issue of hygiene has been a great consideration for countries importing food. In addition, markets that cater to medium- and high-income consumers also have strict requirements on this matter.
A representative from the Ministry of Industry and Trade (MoIT) said the most important task is to follow information from markets and take timely measures.
He noted that the major drawback of Vietnamese fruits and vegetables exporters is inconsistency in resolving and exploiting information.
The lack of effective cooperation between management agencies has resulted in stocks of agricultural products piling up at border gates in recent days, causing damages for both farmers and businesses.
He remarked that management agencies should be able to find overall solutions to issues related to production, distribution, consumption, as well as exports to keep up with modern trends.
Investments in processing and preservation technologies, especially of small and medium units, should be given priority, he said, adding that Vietnam should have processing workshops in areas where the cultivation of crops is centred.
In addition, the country should also pay attention to food chains to ensure quality and hygiene.
Local authorities should mobilize investments for the production and trading of agricultural products as well as for providing relevant information to farmers.
He noted that trade promotional activities should be enhanced while expanding new markets through fairs, conferences, and advertisements in foreign markets.
Duong Phuong Thao, deputy head of MoIT's Department of Import-Export Department, said the annual export turnover of fruits and vegetables over the past five years has been high at 26.5 percent a year. The turnover increased from 439 million USD in 2009 to 1.1 billion USD in 2013.-