Four people were dead, nine injured, 11 houses were completely damaged and 2,960 other houses were inundated in the central provinces of Quang Ngai and Thua Thien-Hue.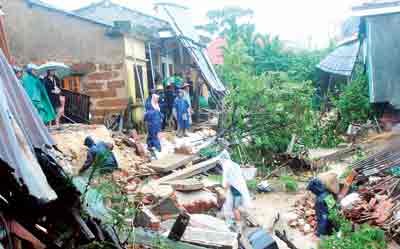 The fishing village Phuoc Thien in Quang Ngai devstated by floods ( Photo: SGGP)
Nguyen Quang Trung, deputy chief of the Steering Board of the Storm Prevention and Fighting, said two Quang Ngai residents died, eight people got injured, 19 houses were totally flattened and 2,960 other houses were submerged in floodwater. The cost of the damage was initially assessed at VND58 billion.
Although rains continued to pour down Quang Ngai, water levels in rivers Tra Khuc, Tra Bong and Ve started to go down on November 15. The Highway 1A was open to traffic on the day.
District Binh Son has provided 12 canvas sheets and nearly 1 tons of rice to families whose houses were destroyed and gave money to relatives of victims of the flood.
Meantime the rivers Huong, Bo and O Lau in Thua Thien- Hue exceeded the third-stage warning level. People in the low land areas of the district were in the depths of despair when two hydroelectricity plants Huong Dien and Binh Dien discharged water from their reservoirs.

Houses in communes Quang Phu, Quang Thanh and Quang Tho in district Quang Dien and communes Huong Phong, Huong Toan, Huong Xuan indistrict Huong Tra were inundated by 0,5m.
Severe landslide in front of Thua Phu jail caused traffic in the road 16 slow to a crawl. A 26 year old teacher Le Thi Phuong got critically injured when she fell into the hole in the road. She was rushed to the central hospital Hue.
A two year old girl was discovered to be swept away in flood. Medical workers' efforts to save her have been unrewarded. Being a student of the pre-school Dong Phu, she had slipped on wet schoolyard.
A twelve grader Duong Thi Diem in district An Nhon was swept away on the way to school. Her body has not been found yet.